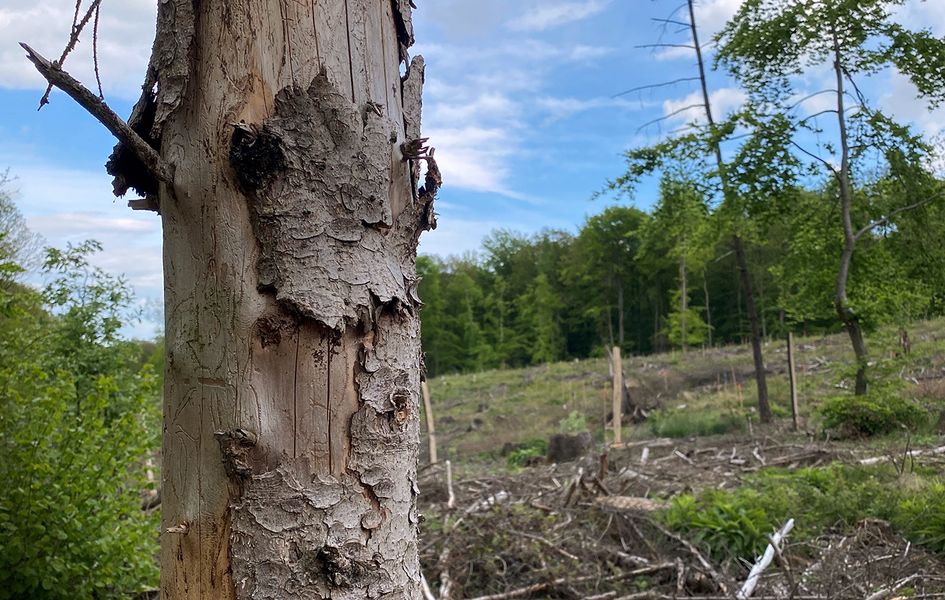 Reforestation project in cooperation with HessenForst
Hengeler Mueller has committed itself to supporting the "Unser Wald" (our forest) reforestation campaign organised by HessenForst, a state enterprise entrusted with the management and care of public and private forests in the German state of Hesse. By participating in this project, we are offsetting part of the CO2 emissions from our operations that cannot be reasonably avoided. With our commitment, we are contributing to the conservation of the forest ecosystem and the necessary adaptation of the tree population in light of climate change.
Remodelling forests
Blowdown, drought and bark beetles have taken a heavy toll on forests in Germany and the damage is becoming more and more visible. In particular, the drought of the past few years has weakened many trees and made them more susceptible to diseases. Spruces and pines have been particularly affected. The objective of Unser Wald is to reforest areas, some of which have been entirely deforested and some where the gaps between forest stands have become alarmingly large. To that end, a mix of climate-resilient tree species are being planted. These species are better able to withstand the new conditions resulting from climate change, and they contribute to a sustainable and biodiverse forest ecosystem.